"The Backstory"

Double click here to edit this text.
Double click here to edit this text.
Double click here to edit this text.
Double click here to edit this text.
Very Vintage Modern...
​
All of my tiles are just that....vintage....authentic....handmade....antique and VERY MODERN!!

Every one of these decorative pieces began their life 80-100 years ago, here in the Midwest, as ornamental ceilings, used around the turn of the century to mimic the more expensive molded and carved plaster ceilings of the elite. More recently left to decay in old buildings and destined for the landfill upon demolition, they have been salvaged by people, who like me, feel the need to rescue our history instead of discarding it. I've given them a new lease on life as one of a kind, decorative works of art. I always leave much of the original finish intact, sealing it to the surface and working on top of it. I feel as tho this preserves the true vintage element to the finished work, creating interesting surface texture. I also leave the original "age-spots"...it adds to that feeling of authenticity; and besides, if you were 100 years old, or more, you'd deserve the right to flaunt your flaws!!

By the time these architectural treasures from a by-gone era have reached my hands, they have seen better days. They are black with dirt, bent, rusty, stinky and more often than not, sticky with filth and harboring 8-legged wildlife. ​I wash them, brush them, straighten them, flatten them and stretch them on a wooden stretcher bar, similar to the way I stretch a gallery canvas. Next comes the fun part! Now I apply multiple layers of artist's oil glaze in combination with several other alkyd glazes then "fire" them in the sun in my driveway. Each tile has upwards of 5 layers of glaze...often more, and takes almost of week to finish. My glazing technique is so rich, the tiles take on the appearance of ceramics...which is what most people take them for. The glaze is also so thorough that these beauties can be displayed either indoors or out. However, if they are displayed outside keep them on a covered porch or patio....the direct elements are still their enemy.....if display in the elements is desired, I can work with that, but I do need to know it. Under normal circumstances, they should never fade or flake. Oh, and about that pesky lead paint.....don't be concerned, when I began this process, I had just come away from restoring an old house....and had learned that encapsulation of the paint is the recommended way of dealing with it.....and boy, is it encapsulated when I get done.....;-)

After the drying process comes the design process for the collages. Whereas some of the tiles with designs that are rare or unusual are now ready to find their new home, most of the tiles will now become my signature pieces...the Collages. I pair the tiles with pieces of my found object collections and create one of a kind wall pieces.....modern art from antique materials!! ​​

I like to think that the original designers, makers and workmen, now long dead, would be pleased that ​​their craftsmanship is being restored to it's former glory....just in a different way.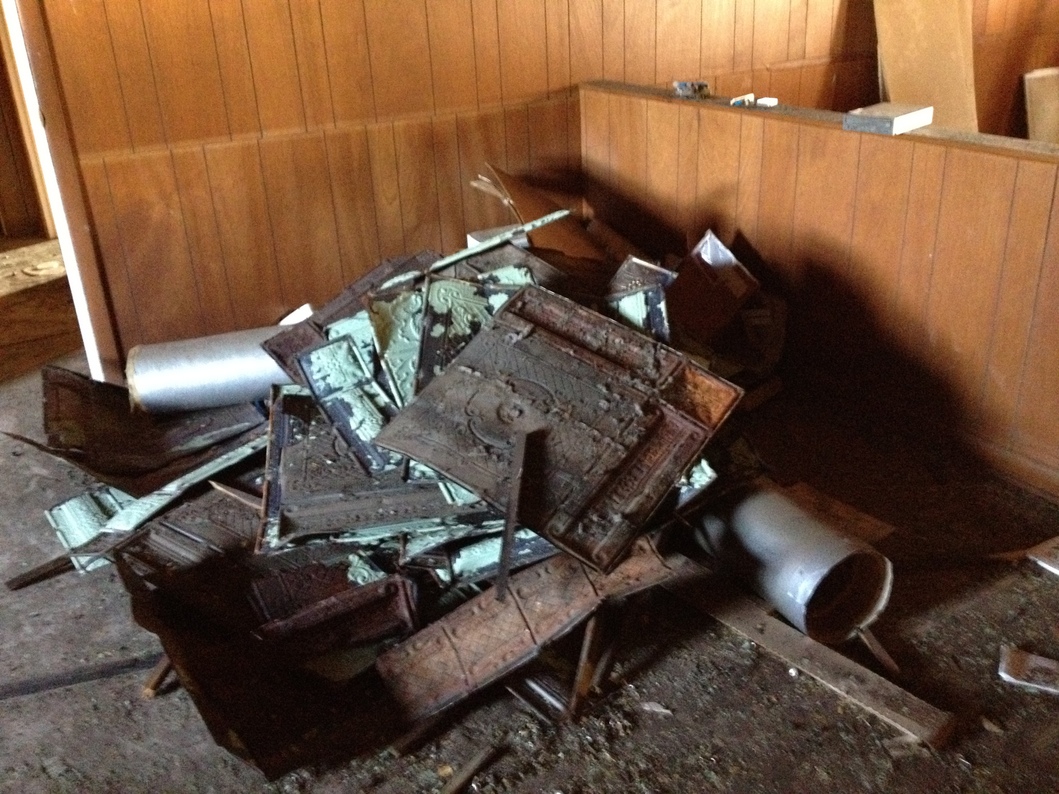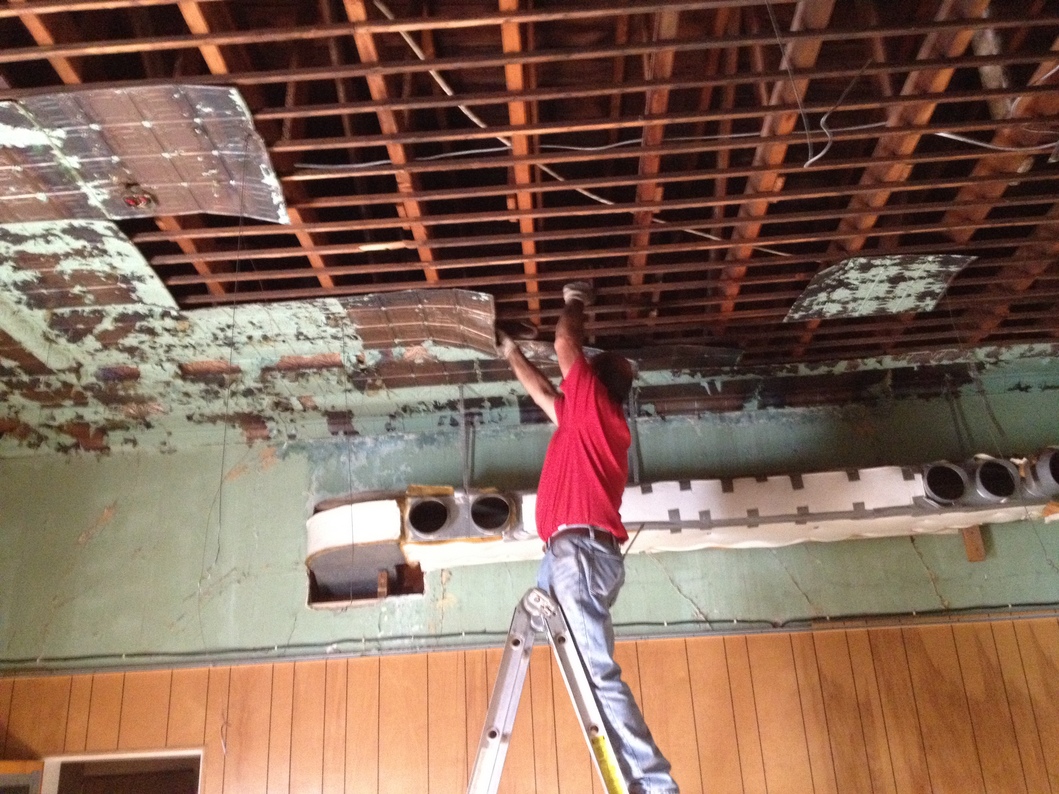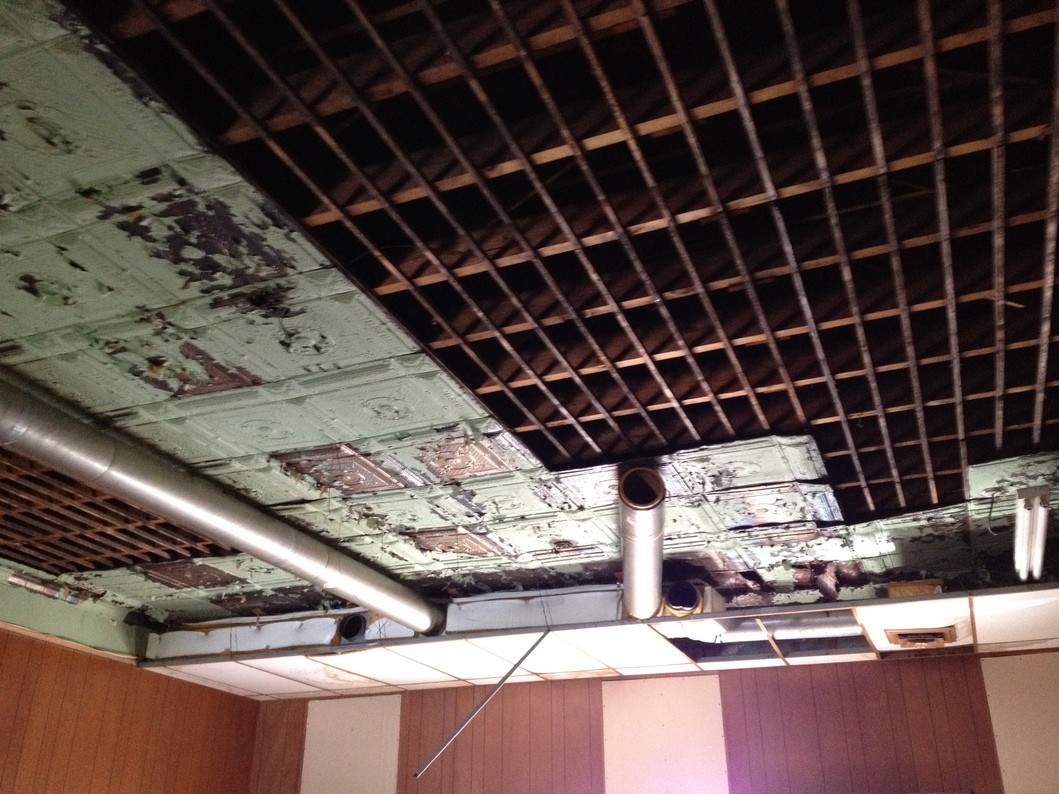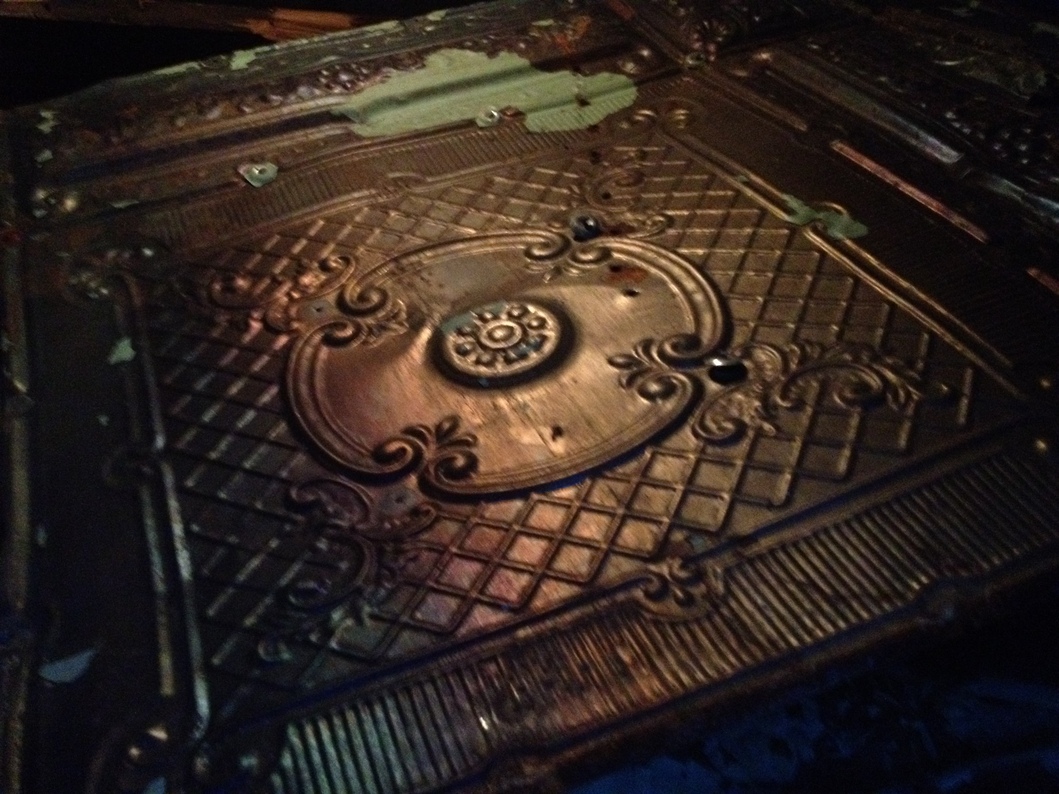 Yes, this pile of stuff is my raw "canvas".....fresh off the ceiling...
Now is when you find out just who your real friends are......Thanks Steve!!
Oh, and most of these ceilings come out of old buildings....where they are usually
​14-20ft off the floor...
Ok, I guess it was worth it!!!!